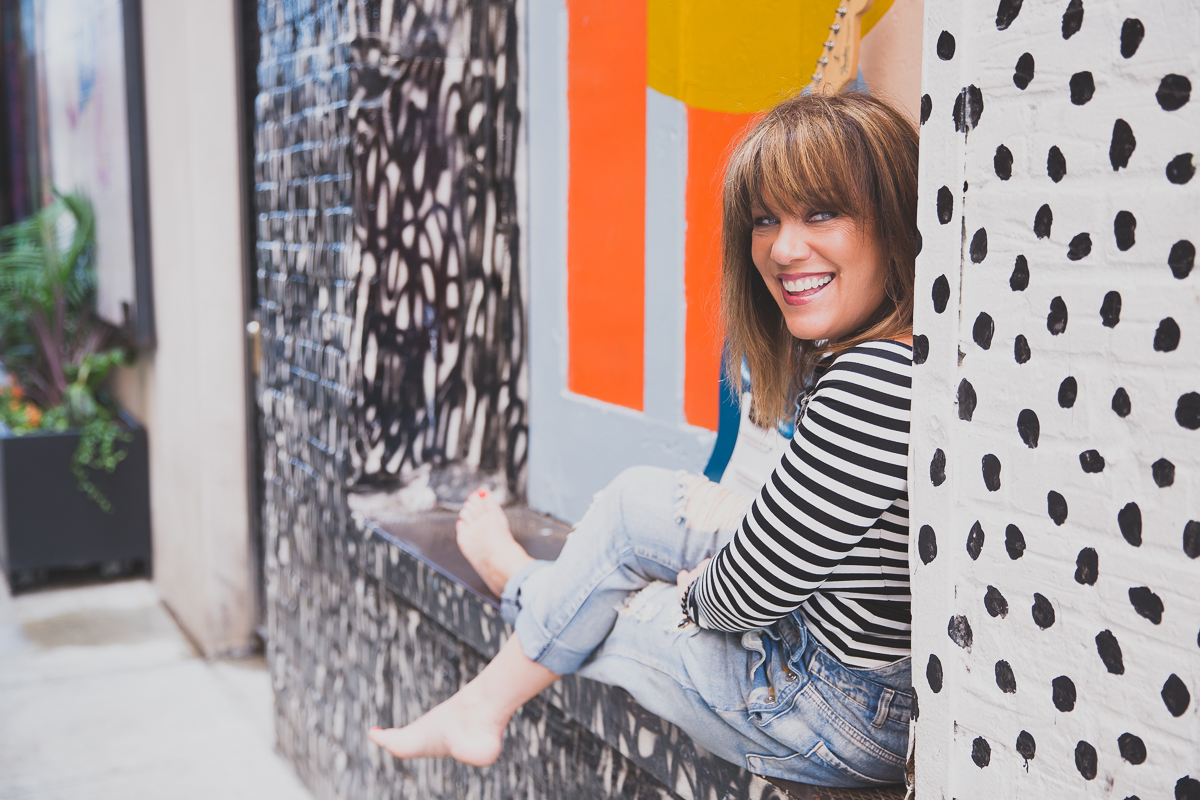 Jill Jack's career has spanned decades and taken her around the globe, performing solo and with her band at sold-out shows, and opening for world-renowned acts.
Jack grew up in Huntington Woods and has lived in Ferndale for the last 24 years. Her work includes self-written songs in a style she broadly calls Americana, encompassing elements of folk, rock, country, pop and blues. She plays acoustic and electric guitar, and describes her stage presence as friendly, with a focus on storytelling and a dash of humor.
"By the end of the show, we will all be great friends," Jack said in an email. "As a musician, I feel we can heal with music. Listening to music is an emotional experience. I want to bring all of those emotions to the surface, while allowing the audience to be relieved of anxiety from their life.
"My storytelling is very relatable," she added. "While some of my stories can be emotionally deep, I always add a hint of humor. It helps people feel a connection, and also that they are not alone in their troubles."
Since 1997 she has won 46 awards from the Detroit Music Awards Foundation, a nonprofit that seeks to recognize Detroit-area artists at the local, regional and national levels. Her career spans more than 25 years and 12 award-winning CDs, as well as three new singles during the pandemic.
She has toured across the country, appearing as a headliner at venues and festivals such as SXSW (South by Southwest), the Ann Arbor Folk Festival, the 30A Songwriters Festival, the WYCD Downtown Hoedown, the Blissfest Musical Festival, The Bluebird Cafe and The Living Room in New York City. She has played for audiences as big as 20,000 people and as intimate as 20.
She has also starred in consistently sold-out shows at the historic Ark in Ann Arbor, and opened for such prominent touring acts as Bob Seger, John Waite, Emmy Lou Harris, Shawn Colvin, Patty Griffin, Dan Fogelberg, Marshall Crenshaw, Chris Isaak and Loretta Lynn.
In addition to live performances, she has composed soundtracks for documentaries by the Emmy Award-winning director Keith Farnie, and in 2011 she composed for the million-dollar ad campaign "I'm A Believer" for the city of Detroit. She has composed commercial jingles for such businesses as Thrifty Florist and Little Caesars.
Jack also believes in giving back, with missionary work in Haiti and community service through the Detroit Children's Choir, the Michigan Arthritis Foundation, Rock for Jobs, Gilda's Club Bras for a Cause, the Girl Scouts of America, Enchanted Makeovers and Lost Voices — a group that supports young victims of abuse, neglect, violence, addiction and human trafficking, through the gentle encouragement of song.
She said her time in Haiti has been especially meaningful to her. She has been there four times in the last seven years.
"My first experience was the most intense, because no one can prepare you for the sights and sounds of Haiti," Jack said. "Yes, there is so much poverty. But Haitians pride themselves on their ingenuity, their (faith), their music, their art and their dedication to one another.
"As missionaries, we went where we were needed," she said. "Some days, we did very hard physical labor, building churches. This meant carrying buckets of wet concrete, bricks, painting, etc. Other days, we were assisting at orphanages, and most recently eye testing and fitting for glasses. Delivering food, clothing and essentials was daily."
Back at home, Jack helps aspiring artist-entrepreneurs through her career coaching company, Dream Big, Inc. She started the company six or seven years ago, working with upcoming artists to help them focus and reach their creative goals. Dream Big also has half-day workshops available for songwriters to help them craft their music.
"It just felt like another extension of my work," Jack said. "I originally started the company to help young artists and their parents navigate their way through the music business. But it has turned into a much bigger mission."
She is currently working with nonprofits, established musicians who need encouragement and even senior citizens who want to leave their mark in music.
"It is never too late to pursue a dream. The only thing that can get in your way is you," Jack said. "Each client is different, with different needs. Some meet with me weekly, and some biweekly, monthly or quarterly. I am flexible and do not force. I am here to guide and be a support system."
She also shared a bit of advice for those looking to make a livelihood out of performing.
"It is not the easiest of career choices, and maintaining it for 25 years is a labor of love. Perseverance and authenticity is my motto. Be yourself, no matter what," Jack said. "The minute you try to be like someone else, you have lost your authenticity and you feel it, your audience feels it. Work from your heart. Not everyone will like you, but they will respect your hard work and tenacity."
Written by https://www.candgnews.com/reporterbio/andy-kozlowski